Bobby Loves hearing From You!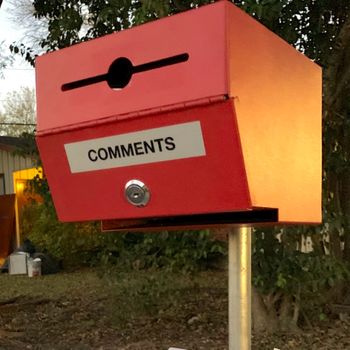 2020
I liked how you used Planets for this. I'm very fond of space. My grandma has cancer so I know how it feels for the boy. I hope the Corona virus isn't affecting how you do the giant letter this year. Sincerely, L, age 9
Note to you. Hi we love what you did. We can't wait for next year to see a new one. We love that you do every year and we are a big fan of your work. Love your neighbors, the P. Family
Dear Bobby (and Mr. McFluffins, This sounds like a beautiful experience. Thank you for sharing it with us. We drove by and stopped to read your Giant Letter...glad we did. One of us always wondered when we were probably around your age, if trees were just giant hair follicles on a giant's head. Stay curious. Questioning everything is fun and it holds a lot of beautiful answers too. P.S. Olive Garden is great. Happy Holidays, Admiring strangers, J & S
"That almost made me cry. That was truly beautiful and definitely put some heart into my day reminding me to slow down and cherish every little thing. Much love"
"Man was not expecting the letter to say that s##t! Wow. And then find out Bobby aint even a real boy! You F###in got me man! Bravo to you! - B"
"11-15-2020 We look forward to reading the letter every year! Thank you for sharing with your neighbors. My dad died of lung cancer when I was 28. I know what Bobby feels. Happy Thanksgiving. Stay safe. - D
"Hi! I love this so much! Even tho I couldn't understand any of it. It's awesome and inspiring to have something like this. Bless yall hearts. Thank you for this. Happy Christmas!"
"Hey I enjoyed the letter. Thank you. More people should be self-aware like Bobby. - C"
"Hello, yes this made me cry (happy tears). I love the solar system and all things space really. Thank you!"
"Hello, I am a retired school teacher. My daughter brought my grand-baby and I by to see this, it is the most ingenious thing that I have seen in a long time. It should be seen on KEYE. That is so Great! Amen. A+"
"This sure did [move me]!! I don't regularly read fiction/poetry (bah humbug) but this letter made me think more about the human condition outside of my own bubble. I was thinking most about the phrases describing the cancer cells as 'friendly cells' who just happen to be killing a human. I never thought of it that way. It makes me think about "spiritual cancer" that rots away our hearts/minds/souls, whatever-you-call-it. It can be deceiving (in a sense that you don't notice it) and sometimes we actually enjoy/relish it, but it ruins us. I love the art installations -- thank you for lighting up this dreary year of 2020 with just something fun/thoughtful to look upon! - C"
"This was so cute! It made me feel like a tiny little molecule in this big world. Happy stargazing."
"As two scientists we find this very touching. Thank you."
"I loved the Earth and the book it looked like it was floteing." [included drawing of the Volvox in a young child's handwriting]
"How cool to see a giant letter! Bobby has a very unique perspective on the world."
"Bobby, thanks for your unconditional love of bad cells, the moon and pie. Pretty awesome to house that kind of perspective -- it might be the most (and best) contagious thing. Happy New Year! - A"
"I like it i was microscopic." [Written in young child's handwriting]
"Love this. Each and every one of us is only a SMALL part of this universe. Let's do our best to enjoy each other. Thank you for this."
"I love this and all the other letters. Thank you for bringing this to our neighborhood. Keep it coming and much love."
"D loves the softness of the book cover."
"Thank you. It felt good to cry. - S"
"I like it. M (age 6)"
"Hi! What a wonderful display! As a firm believer in science, this is so very awesome! Especially in this time... Just great! Thanks! - H"
"The imagination of a child reminds us how little we actually know and inspires awe and excitement in me. - AG"
"So beautiful. Thank you very much. Great work."
"I hope your telescope was fixed (M. Age six)"
"I love the earth. It looks so realistic I feel like I can just reach out and grab it. You're always so creative with the letters and designs." [Includes a drawing of the installation]
This is awesome! I will be bringing my children by later. Really creative.
"Such a beautiful letter. Thank you for sharing this."
2018/2019
"Hi, I've been having a hard time lately. Not much makes sense . But I have hope. I was driving with no sense of direction, just listening to music and found this -- a light in the darkness -- a reminder that human creativity is a gift that can help us all feel a bit less alone. LOVE. CONNECTION. CREATIVITY. FAITH. HOPE. LOVE. We're all on this planet together. Much love. - BL"
"Love walking by this. I stop to read it every time. Thank you."
This is so inspiring! My dad is in remission right now so this touched me. Stay safe and healthy and thank you for such a beautiful and positive message in this weird time! Praying always."
"Dear Bobby, my name is L. my husband daughter and I drove past the giant letter. We reversed to read what your mother wrote. Made us cry, happy years. Please keep being positive even when times get tough, it's becuase of beautiful souls like you that keeps us going. I hope my daughter is as smart and wise as you. She is turning 2 on Monday. Thank you! - L"
"Dear Bobby, my name is A. I will be 2 on MOnday. I think you are an Angle. Do you like puppies? I do! Can we be friends? So you can come to the park for my birthday. I have to go now we have to shop for my small party."
"The essence of your beautiful story is with the essence of the world.:)"
"Dear Bobby this is cool and like wow 1000/10"
"Very cute! Love the confetti and the giant piece of pie! I hope you do this again next year! <3 C"
"Dear Bobby, you are so strong and so full of love. Never lose that love and healing spirit you have inside you. The world is wild, but you've already got so much right! Much love, A"
"My son and I drove by and read the sign in the yard. Sending hugs and prayer and lot's of "confetti" to celebrate you and Bobby. Love, S + Q"
"Thanks for making the giant letter. My boys think it is really cool! They love the giant pumpkin pie too! Take care."
"Dear Bobby,
"In appreciation of art to celebrate survival. From a cancer survivor. Thanks!"
"I hope the gravity of the moon continues to warm through and continues to comfort you. WIth dearest hopes. - A
P.S I remember the way the moon would orbit fast in pace during the night."
"Amazing story. Every time I pass by I stop and cry. Love you Bobby!!!"
"To the mom who wrote this. This has been the best thing I've seen all around Austin in years. My kids and I were house hunting and drove by. Your words brought years to my eyes and touched my heart strings!!! A definite reminder how precious and wise children truly are. The inspiration and motivation for life itself! Stay awesome and God bless you and your family. You are so deeply and beautifully loved. - D"
"I"m going through hard times. I lost my job and my insurance because of COVID in the middle of a breast cancer fight. WHen I came to your house today I was struck with so many emotions. This made my day!! Much love to you all. - S"
ThanK God for you and life. This is amazing. Every piece of my heart is filled with your love. God bless you!"
"Dear Bobby, you are so wise! Much love to you , your mom and family from an adoring neighbor (whom you don't know). All the best for good health and <3"
"Ive never seen something like this where I'm from and this touches my heart. I love this so much I'll make sure to follow you guys. -J "
"Keep yo heaad lil G you got dis berry."
"This brought tears to my eyes. Incredible."
"So we been going through a lot and I'm a 13-year old. And your house is pretty."
"Hi I stopped by this amazing work. It is so nice and I followed you!"
"Seeing this Giant Letter has made my heart smile <3. I lost my mom yesterday to unknown complications... My heart is full of memories. We won't hurt forever. Some day we all will see each other again. Bobby is blessed to have a momma like you <3. - A loving daughter."
"Your words make my day goes good."
"Thank you so much for making magic happen. I got to bring my mom to see this year's letter and she loved it. Love M"
"As a military veteran, I have to believe with all this evil in this world, magic HAS to exist. Thank you for sharing this with our city. We MUST keep love, light, good deeds ALIVE! Miracles do happen! God bless you! And may God bless our people, the human race. With love, AV"
"Bobby, you are the magic."
"I was randomly driving on this street home that I never have driven on before and I guess it was meant to be. My mom was diagnosed with breast cancer a month ago and it was very scary. Thank God the latest tests show it's treatable. Here's to fighting cancer tooth and nail!!! I love you, JP....thanks for sharing.""I love walking by this. I stop to read it every time. Thank you."
"3-6 This had been a hard morning to me with all the bad news around me until I saw your letter. It make me cry and also feel better. Thank you , thank you, thank you. RI"
"Hi Bobby! I am moved to tears by your miraculous story. I must say, God shows his presence in many ways. From shooting starts and a grip of the hand. It's all connected somehow. Never lose the feeling of shooting stars in your heart. It means hope is alive and your faith in good things/God is strong. I'm crying because I'm feeling the shooting stars in my heart too. Thank you, M"
"This is absolutely amazing! I hope to see more of these around Austin. My stepdad passed from cancer so seeing this letter gave me hope that cancer can be beat! J"
"Thanks for putting the stuff up. Everyone loves it! L"
"Hi Bobby! I'm so glad I took the time w/ my friends to read this. Every year I try to do this. Thanks for making me feel the shooting stars in my heart. Christmas Eve, JH"
"Hello Bobby, your curiosity has been a pathway for my own personal forgiveness and eagerness to overcome these feelings. Thank you for listening and never forget 'the creative adult is the child who survived. D'"
"Bobby, we stopped by after a soccer game on Saturday. We read you letter which touched our hearts and reminded us that we should always believe in magic because amazing things can happen when we least expect it. We're glad to see your mom is doing better and has beat cancer. Have a great Christmas and thank you for sharing your story with us, F, P, B, A, Y"
"Thank you for the heartfelt message. I have the opportunity to share this with my mom and daughter. Merry Xmas, L"
"This was really beautiful and creative. Hope your mom keeps getting better. From a nurse, R"
"Dear Bobby, you are a beautiful writer and your words spread magic throughout this universe! Magical energy can never be destroyed. It lives on in the hearts and minds of people like you! Love, S, R, A, A and W"
"Today is my birthday. I walked 'home' to my Airbnb by taking a new path. What a treasure to come across your lovely letter. I am excited for my friends and family to read my facebook post so they can read it too. Much love from Canada! MS"
"You guys are lovely! Thank you for sharing your artwork as a reflection of life and relationship, they are a true inspiration. God bless and happy new year. - N
"I was randomly driving on this street home that I never have driven on before and I guess it was meant to be. My mom was diagnosed with breast cancer a month ago and it was very scary. Thank God the latest tests show it's treatable. Here's to fighting cancer tooth and nail!!! I love you, JP....thanks for sharing."
"Thank you! Such a gift you give to the neighborhood!"
"That is such a wonderful message of love. You all sound like a amazing family. Congrats and praying for your family."
"Thank you so much what a spark of joy this brought to my day. - J"
"1st - I love how you share with the world.
2nd - Hello
3rd - I have a sad story for another time and hope it''ll be fine. Needed friend even @ a distance."
Hi Bobby, I finaally read your family's story and OK I cried a little bit. I just wanted to tell you that it's people like you and your gift of seeing things in such a fresh, healthy, obvious way. And most of us misunderstand so thank you. And thank your mother for me too. BLESS THIS HOUSE! Me [drawing of sad feace with word 'tears' and drwaing of happy face saying 'me now']
"Dear Bobby, I don't know you but I love you! Your neighbor. P.S. I love the pie!!! My favorite is apple."
"Oh god I want to say thank you for everything. Say hi to Mom and Dad for me."
"I really like it. Thank you for setting iu up for us to enjoy! Your neighbor."
"To Bobby's mother. You are an amazing woman. Your 'mother's love' shines bright. I know your HOliday Season was very fulfilling.
To Bobby, congrats on Remission. Love the C family San Antonio, TX"
"I'm standing in this years in tears! But of Joy... Way to go Bobby for helping your mom!"
"It is so cool to share your love with everyone and know we don't end here!! Good luck and good love to your family."
"Dear Bobby, you're so special and you've shown your mom unconditional love. You're a good boy and I hope you get all you want for Christmas especially having your mom at your side. Stay blessed. Congrats on your remission Mom. Give Bobby plenty of kisses. Love, Passerby"
"Hi Bobby, thank you. I love that for making something beautiful of simple punched holes. Thank you for sharing. - D"
"I was diagnosed with breast cancer earlier this year and am now cancer free after treatment and surgery. I plan to bake to share also! Thank you for making me smile. <3 C"
"Bobby, this letter made our bike ride so much better. Thank you for spreading the positivity to all of us. We are happy for you, your mom and the rest of your family. Sincerely P & E."
"Bobby! My goodness what a sweet little being you are! And how wise of you to see, feel and love the good in everything! The world will thrive in loving abundance with more incredible thoughtful and aware humans like you. You are the light energy we all look up to andn need. Thank you for stopping me in my tracks. <3 The happiest of holidays to you all. With love, Forever, J"
"This made my day! Made me cry, but a happy cry! - T"
"So beautiful to learn so much from you and your mom while having a walk. Thank you for teaching us to be grateful people. Love, D + B"
"Amazing! Thank you for sharing your story and letter and art with us! I hope you and your mom have a wonderful holiday together. My dad died of cancer in Januart, but I"m so grateful we had the time together that we did, under many hugging full moons. All the best, A."
"Dear Bobby, Keep telling and showing your mom you love her no matter how old you both get... <3 C + F"
"This really touched us! We are so happy you get to spend Xmas this year with your baby. Thank you for helping me onnect to my own gratitude. Love, M"
"Bobby, I lose my mother to cancer in August 2018, so I know you must be very happy that your mom is in remission. Hugs."
"Bobby, I too have had family members battle cancer. It is so hard to be the strength they need when all you feel is pain. Pain watching them suffer and feeling that nothing you can do will help. Well, you saved your sweet Momma. What an amazing gift you have shared. Happy healing to you and Momma. <3 M, S and K
"Dear Bobby and family, thank you for spreading art and kindness. Thanks, S. Allen, TX"
"What an amazing thing to share with your neighborhood. Thank you!"
"Dear Bobby, thank you for spreading love and kindness. Love, K"
"Dear Bobby, you are certainly a hero. Passed by your house and just want to encourage you and your mom. Stay strong and keep believing you are inspiration to many. My prayers and love continue to go forth. Blessings, W"
"Dear Bobby & Mom, you are btoh incredible humans. My mom passed almost 3 years ago & I miss her more than anything. I wish I could have been there for her more so Bobby I commemorate your standing by your mothers side & mom = congrats on your remission! That is AMAZING to the moon & all the way back. <3 T and son."
"Dear BObby, I think th
"You are such an amazing inspiration to so many people. Wow what a great gifit you are to your mom. Your both miracles and we need more of you in our world! God bless, E"
"Dear Bobby, you and your mother are beautiful. The moon is eclipsed tonight 12-26-2020 Your story was welcomed in our heart. <3 N + A"
"Way to be a blessing and embrace the words from your hero - keep shinging and sharing your letters. I've read all of them. God is good."
"OMG Blessings to you. Enjoyed your message. I needed it (my daughter) Thank you."
"Dear Bobby, I think the letter is cute happy new year! P.S the Pie looks good enough to eat. <3 - Sincerely, Somebody"