MARCH 1st, 2021
As part of National Read Across America Day, Team Giant Letter is giving out free books at our giant book at 1312 Broadmoor Drive in Austin, Texas. Anyone is welcome to come take a book or two. ❤️
NOVEMBER 15, 2020
Our 2020 Giant Letter installation is up and ready for visitors! As part of this year's Austin Studio Tour Giant Letter will be up through January 13, 2021 – in the 1300 block of Broadmoor Drive (at Windsor Park), Austin, Texas.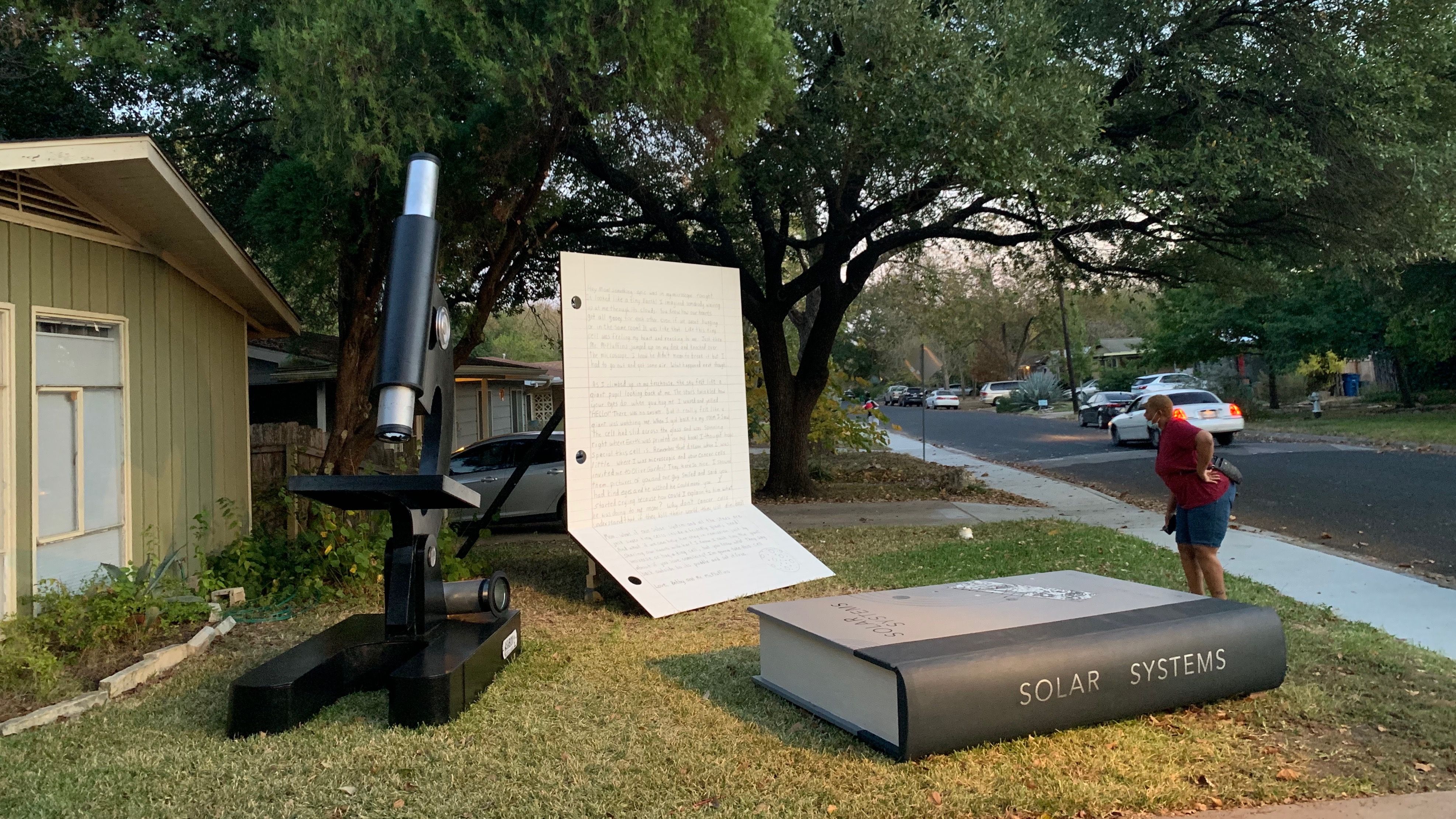 NOVEMBER 11, 2020
It's positively Cosmic! After months in the making, the BIG REVEAL will take place at 11 a.m. on Saturday, Nov. 14, 2020, as part of Big Medium's socially distanced AUSTIN STUDIO TOUR. See this kid-friendly immersive art installation then – and through January 13, 2021 – in the 1300 block of Broadmoor Drive (at Windsor Park), Austin, Texas.
Making way for 2020's Giant Letter Installation
Hello, Team Giant Letter here! We have broken down the recent Giant Letter installation and want to extend a heart-felt thank you to everyone who participated in this year's installation, especially those who have engaged with us on social media and through our mailbox out front in deep and meaningful connections. We have received the loveliest letters and comments and have connected to you through your inspiring, heart-rending and uplifting stories. Thank you for entrusting us with your hearts! We'd like to share this little stop-motion-animation (30 minutes of dragging a 200-pound piece of wood around in the grass) of the pie driving off the yard. It loves you and bids you farewell for now! Please stay tuned as we begin preparations for our 2020 installation! Love, Team Giant Letter
If you were unable to see the piece in person, you can read the letter here 2019 or below:
"My Dearest Bobby,
I just found these amazing confetti T-Cells you used to make for me. When I'd hear the hole-puncher clicking and you'd come out to help me sprinkle them on my head my heart would beam. They'd "hug my cells the way moons hug planets," you explained. One time when I asked you to be careful not to sprinkle them on my bad cells, you said "you gotta love all your cells, Mom, especially the bad ones." I didn't think you understood how terrible those cells were. Tonight I'm realizing that I was the one who didn't understand that just because something is bad doesn't mean it can't become good. I've learned that remission is just bad cells learning that they are hurting their host.
I've tried so hard to find the words to tell you how wise I think you are. I need to share some great news with you. How do you tell a boy who is your baby, that he is your hero? I realize it's not through words at all. I just bought the ingredients to make the pies you've been wanting to make together to share with strangers. This is such a perfect way to celebrate that today's full moon marks my first official year of remission! Let's go share our happiness with the world, under the gravity of the hugging moon.
All my Love,
Mom"
MOTHER'S DAY 2019
Hello, this is Caro, the primary writer of the Giant Letters. As some of you may know, I lost my mother to cancer in April of 2003. The character of Bobby's mother, Lucinda, is based on her. My mother was diagnosed with a Grade 4 Glioblastoma and was given 8 days to a year to live. She was 49 years old. She survived 5 years. She was an extremely strong woman and I miss her.
Whether you are a mother or a child, and whether or not you have been touched by cancer, Team Giant Letter would like to extend our hearts to you this weekend. We invite you share your mom's first name in the comments of our Instagram page @giantletter or our Facebook PAGE. We will write their name "in adoration of" or "in memory of" in the windows behind the letter.
If you are local to Austin, Texas and looking for a way to celebrate Mother's Day, please consider stopping by the giant letter at the 1300 block of Broadmoor Drive 78723 and invite your mom to meet you in her car! Practicing social distancing does not mean you can't share moments of heart and spirit.
To all the moms and mother-figures out there, Happy Mother's Day weekend!